A lot of people are unaware of what arugula is. Even those who frequently indulge in fresh salad are sometimes oblivious that arugula is already included in what they are eating. What is arugula?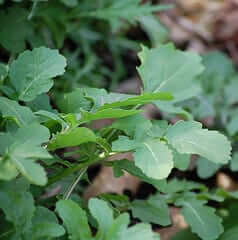 Arugula is a type of herb which has a rich green color. This is also known to belong in the same family as mustard. Its scientific name is Eruca sativa but in other parts of the world, among the common names for it include, roquette, rucola, rugula, rocket or Italian cress.
This herb grows as a plant, just like lettuce. The leaves are picked once it has already achieved its rich green hue. The size of mature leaves ranges from about 3 to 8 inches.
The taste of the leaves is a combination of hot and peppery flavor. The more mature leaves have more intense flavor. For those which grow in the wild, the leaves also have a stronger taste. Arugula which have been cultivated in backyards and farms have a milder flavor.
This vegetable is best used to make salads. Arugula salad with walnut is a good one to make with it.
Nutritional Benefits of Arugula
Since the early Roman times, arugula has been recognized as an herb with great health benefits. Romans grow this plant and eat them because it is considered as an aphrodisiac. They even use the seeds to create an oil that adds a rich flavor to their food.
Today, the leaves of arugula are added to salads and other dishes. It is considered as an ideal food even for people who are on a diet because it has low amount of calories but high fiber level. Because of that, eating it can easily satisfy hunger without adding much calories to the meal.
Among the vitamins in arugula are Vitamin C and Vitamin A. The rich amount of Vitamin A can contribute in promoting good eye health and preventing the destruction of cells. Hence, it contributes in avoiding dryness of eyes, macular degeneration and other eye problems. On the other hand, Vitamin C strengthens the immune system and allows the body to combat a whole lot of bacteria and viruses which could trigger health ailments.
Surprisingly, this also has escalated level of calcium. This contributes in ensuring proper bone health by avoiding bone mass loss. It also helps in prevention of osteoporosis.
Usage of Arugula
Arugula usually grows much faster during the summer months. However, some people have already devised a way on how to do succession planting to make it available all year round. The younger leaves of arugula can be harvested already because these are more appropriate for salads. Because of the milder taste, it gives a palatable flavor when eaten raw. Older leaves which have a stronger flavor are more recommended for sautéed or steamed dishes. The leaves can also be used in making pesto for spreads or pastas. Since this plant also produces flowers, these can be harvested too and eaten along with fresh green salads.
Once the arugula leaves are picked, it is important to use it immediately. The leaves would no longer give a pleasant taste after a day or two. If it is necessary to postpone its use, it should be kept in a dry plastic bag and refrigerated to prevent it from wilting.